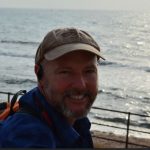 Jonathan Williams is a nearly 30 year veteran of the Walt Disney World Company.   Over 20 years of that time was spent in the Service Industry sector where he served Guests and Clients from around the globe.  His international experience launched with the opening of Disneyland Paris with further stints with Premiere Cruise Line.  He is excited to expand his expertise to Israel (and beyond!).
As a brief Statement of Faith, Jonathan believes in the infallible Word, One triune God, and a still relevant Ten Commandments.  Jonathan affirms that Jesus is the Way and no one comes to the Father except through Him and His unearnable Grace.
Image caption: Jonathan is smiling because he is in the middle of Israel with a beach behind him and ice cream just ahead.